Reyada Interior Design

Our Expertise
Great interior design is created by putting all of these factors in designing . We have a skilled and experienced team – we design, support, keep books, place orders, schedule deliveries,and allocate myriad other tasks. Your project is on good hands. We have experience in:
Reyada specializes in new construction and major remodels that often involve teamwork with clients, architect, and contractors.
ABOUT US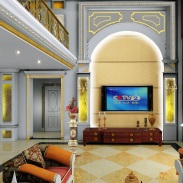 An interior design company,as part of Reyada Middle East Group,specializes in designing and offers one-stop service.
We serve our clients wholeheartedly to bring their vision of interior design to life.
We have the know-how to create new ideas that adds value to your projects. And we assist clients to choose all the materials related and the materials selected are from our partners worldwide.
The key to our success is that we have expertised professional team in interior design and interior fit-out works.We have our policy and procedure complying to the project management methodology in our daily bases. We are using six sigma administration policy and procedure.
OUR VISION: To create not just interior design but a piece of Art; To be one of the top interior design companies worldwide.
OUR MISSION: To deliver high quality interior designs and interior fit-out works to our clients.